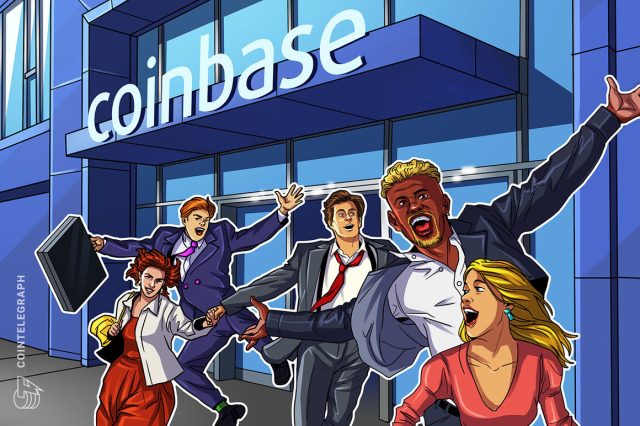 Coinbase, one of the largest crypto exchanges by volume, opened its beta non-fungible token (NFT) marketplace to the public on May 4 with on-chain data showing a maximum of 150 total transactions on the day and $75,000 in USD volume.
The transactions captured by Dune Analytics show the total amount which took place through the 0x Protocol, the infrastructure behind Coinbase's marketplace. Whilst not all transactions are guaranteed to be from Coinbase, since 0x announced its support for NFTs in January it has yet to announce any other partners apart from Coinbase.
The number pales into insignificance compared to expectations arising from the marketplace's waitlist. More than 8.4 million email addresses signed up for the waitlist before it moved into beta testing on April 20 with only a select few able to create profiles to buy and sell NFTs. Analytics show just over 1,200 total users have transacted on the platform up until May 5, a mere 0.014% of the waitlist.
It's been 2 weeks. Raise your hand if you've made a purchase on @Coinbase_NFT

As a matter of fact, raise your hand if you've even logged in

— quit.pcc.eth (@0xQuit) May 5, 2022
Market volume figures in USD aren't hitting the mark either, May 4 saw just over $74,700 in volume transacted on Coinbase's new marketplace. While that might please critics who claim the NFT market is in sharp decline, by comparison the largest NFT market OpenSea recorded $1.18 billion in transaction volume on the same day.
Coinbase announced the waitlist for its NFT platform almost seven months ago in mid-October 2021 with some Twitter users noting that the launch took too long to open to a public who had other options like OpenSea and LooksRare listing popular collections.
Related: 5 NFT marketplaces that could topple OpenSea in 2022
Some users report that the marketplace in its current form doesn't differentiate from its competitors as it needs a self custody wallet and requires gas fees. Coinbase does have future plans to change this as its January partnership announcement with Mastercard will look to make the platform friendlier to first time users with the ability to purchase NFTs via credit card.
The low user numbers for its marketplace come over a week before a Q1 earnings call on May 13, Coinbase's stock price is down 68% from its all-time high of $357 on November 10 hitting a low of $112 on April 29.