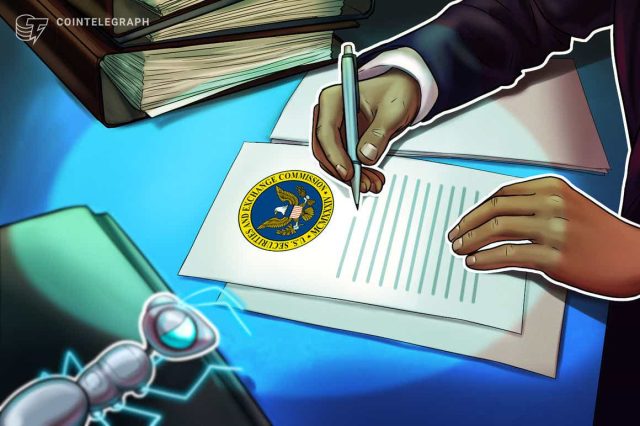 The United States Securities and Exchange Commission, or SEC, has disapproved spot Bitcoin exchange-traded fund applications from the New York Digital Investment Group and fund manager Global X after deferring on a decision several times in the last year.
According to two separate Thursday filings, the SEC rejected proposed rule changes from the Cboe BZX Exchange and New York Stock Exchange's Arca to list and trade shares of the Global X Bitcoin Trust and New York Digital Investment Group's Bitcoin exchange-traded fund, or ETF, respectively. The SEC said that NYSE Arca and Cboe BZX had not met the burden under the Exchange Act and the SEC's Rules of Practice of showing the ETF would be "'designed to prevent fraudulent and manipulative acts and practices" and "protect investors and the public interest."
The New York Digital Investment Group, or NYDIG, and Global X filed applications with the SEC for spot Bitcoin (BTC) ETFs in June and August 2021, respectively, but the commission designated longer periods of time to approve or disapprove the proposed rule change and opened the applications for public comment several times before reaching a decision on Thursday. The rejections followed similar decisions for spot BTC ETF applications from WisdomTree and VanEck.
The SEC denied NYDIG's Bitcoin Spot ETF proposal this morning.

— Pomp (@APompliano) March 11, 2022
Though the U.S. regulator has yet to approve any spot Bitcoin ETF application from financial institutions, investment vehicles linked to Bitcoin futures have had more success. Many companies filed applications for BTC "strategy" ETFs following SEC chair Gary Gensler saying in August 2021 he would be more open to accepting exchange-traded funds based on crypto futures rather than through direct exposure. The commission has since approved ETFs linked to BTC futures from Valkyrie, ProShares and VanEck.
Related: SEC chair hints at no spot Bitcoin ETFs yet, but cites 'careful consideration' for future
As crypto ETF applications from other firms are still in the pipeline, at least one company is taking more of an initiative to seemingly put pressure on regulators. Following the SEC delaying its ruling on whether to approve Grayscale converting its Bitcoin Trust into a spot BTC ETF, the asset manager launched a campaign calling on U.S. investors to submit comments to the SEC. The regulator is expected to reach a decision on the ETF by July 6.