Bitcoin (BTC) and the broader cryptocurrency market rallied on Thursday, as the total value of digital assets crossed $2 trillion for the first time in over three weeks amid signs of a clear shift in market sentiment — headlined by Goldman Sachs, no less. 
BTC printed an intraday high of $44,253, having gained more than 3% during the session, according to data from Cointelegraph Markets Pro and TradingView. The largest cryptocurrency by market capitalization has now recovered over 33% from its January low.
The total crypto market cap has gained over 7% since Monday to reach nearly $2.1 trillion, according to Coingecko data. The market capitalization figure also reached $2 trillion on CoinMarketCap.
While not bullish, Bitcoin's Fear & Greed Index has escaped "extreme fear" and is now in the "fear" stage with a reading of 40. The volatility and sentiment indicator is based on a scale of 0 to 100 with higher readings corresponding to a more bullish outlook for BTC.
The crypto market's apparent shift in sentiment follows months of downward price action for Bitcoin and altcoins, which led some investors to speculate about the possibility of a full-fledged bear market. Amid geopolitical unrest, however, members of the legacy finance community have identified crypto as a potential opportunity.
As Cointelegraph reported, BlackRock CEO Larry Fink said the war in Ukraine could force nations to reevaluate their currency dependencies, potentially paving the way for digital assets. Specifically, the BlackRock CEO touted digital assets as a viable tool for international settlements and transactions.
Crypto has been on Fink's radar since at least the fourth quarter of 2020.
Meanwhile, multinational investment bank Goldman Sachs appears to have put crypto on its radar and even redesigned its website's homepage to reflect the growth of digital assets and the metaverse. Referring to these technologies as "megatrends," Goldman populated a new "Insights" section of its website with previously released reports on gaming, the metaverse and Web3.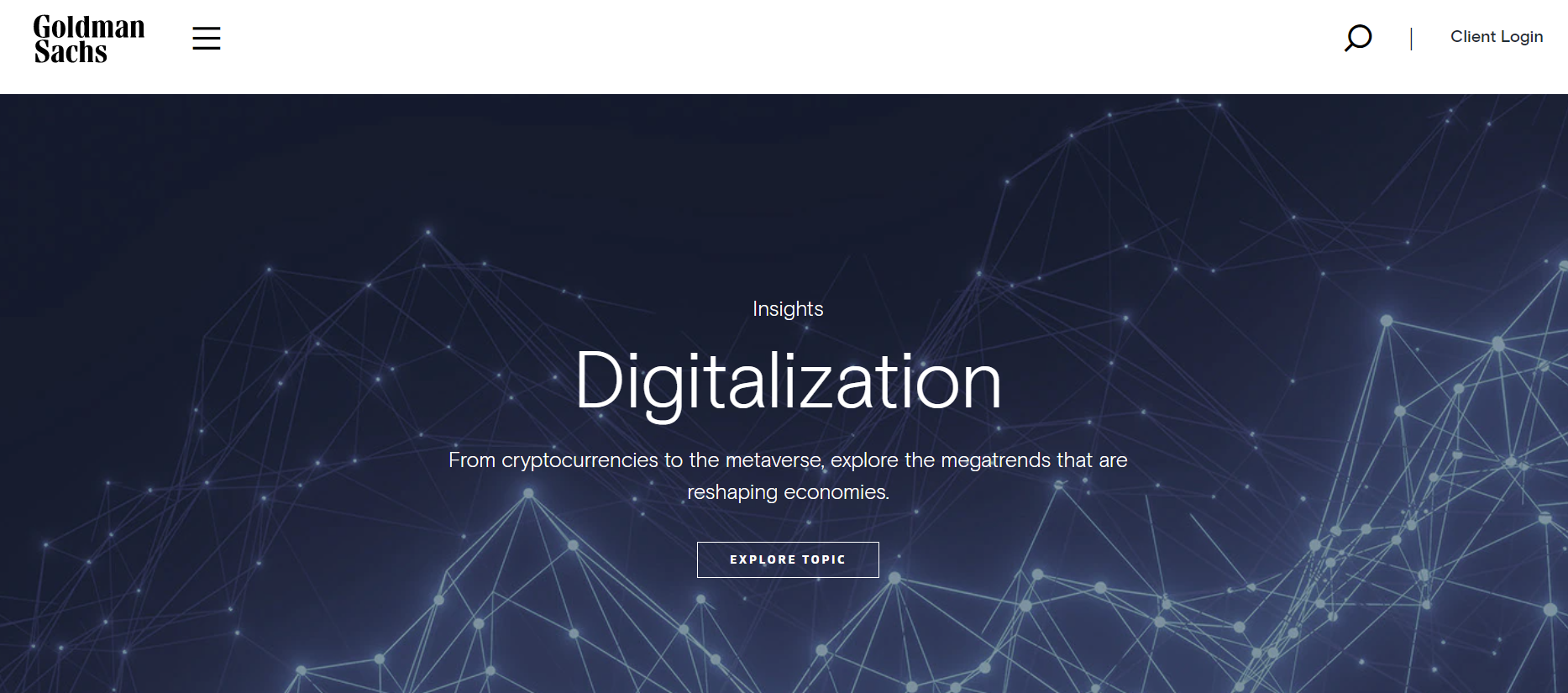 Goldman Sachs recently completed its first over-the-counter crypto options trade with Galaxy Digital. The investment bank first launched its Bitcoin futures product for CME in June 2021.
Related: US investment bank Cowen launches dedicated crypto division
Finally, Grayscale Investments recently announced the launch of a new smart contract fund that allows accredited investors to back Ethereum competitors. The new fund, which has already opened for daily subscriptions, provides exposure to Cardano (ADA), Solana (SOL), Avalanche (AVAX), Polkadot (DOT), Polygon (MATIC), Algorand (ALGO) and Stellar (XLM).