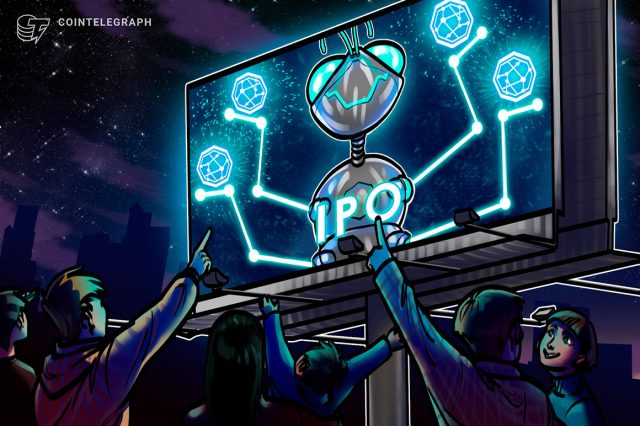 UK-based blockchain infrastructure firm Applied Blockchain has filed an initial public offering (IPO) application on Apr. 8 to the United States Securities and Exchange Commission to issue 3,236,245 shares of common stock onto the Nasdaq Global Select Market with the ticker symbol APLD.
The firm currently operates a stock on OTC Pink — the lowest of three tiers within the over-the-counter market as per financial volume and the disclosure of company information required — under the same tag with share price of $18.84.
The document of application was keen to emphasize that the public offering price would not be determined, or entirely indicative, of the current market value of OTC Pink, but rather by through diligent assessments conducted by themselves and the underwriters.
Saying this, the firm did outline a guidance valuation for potentially interested parties of between $16.54 and $20.54 per share, a range which provides a median of $18.54.
There is no official timeline for an SEC response, but in usually circumstances it takes months.
Related: Shell-Backed Firm Raises $2.5M for Zero-Knowledge Proof Platform 
In April 2020, the distributed ledger technology (DLT) firm raised $2.5 million in their second seed round led by Hong-Kong venture capital firm QBN Capital, the first being a $1.5 million raise in early January 2018 led by Calibrate Management and energy giant Shell Trading International.
More recently in mid-February this year, Applied Blockchain became the recipient of an undisclosed-sum grant from the Algorand Foundation for the research and development of a reciprocal-flow Algorand to Ethereum bridge titled the London Bridge. The platform is hopeful of enhancing the liquidity and interoperability of the two networks with an inherent focus placed on "security, cost and user experience."
On the 21st of April our CEO @adi_benari will be presenting at the "After the Bell" event in London, an event titled "The Impact of DeFi: What's Next in Tokenization, NFTs, DAO & the Blockchain Economy."

Register with "APPLIED" and get a 40% discount https://t.co/dnpAzPNO0D

— Applied Blockchain (@AppBlockchain) April 6, 2022