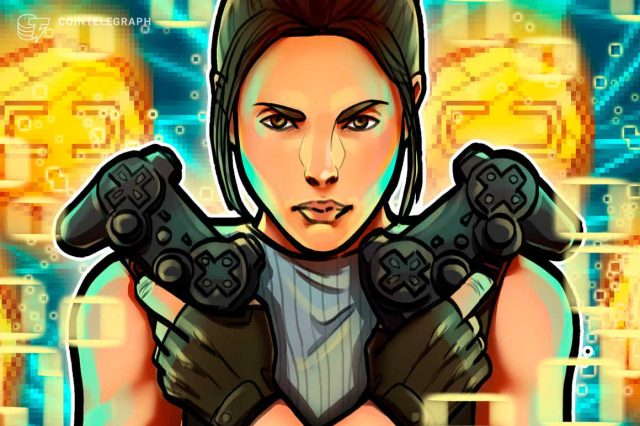 The cryptocurrency market has had a less than stellar start to the year and it appears that the downtrend that began after the November 2021 market peak has been extended thanks to a multitude of negative developments, including the expectation of rising interest rates and the threat of a war between Russia and Ukraine. 
While many traders have little appetite to risk capital during bearish conditions, contrarian investors looking to buy while "there is blood on the streets" have several viable options with data from Cointelegraph Markets Pro indicating that Bluzelle, a decentralized storage network for the creator economy, is one token with an increasingly positive outlook.
According to data from Cointelegraph Markets Pro, market conditions for BLZ have been favorable for some time.
The VORTECS™ Score, exclusive to Cointelegraph, is an algorithmic comparison of historical and current market conditions derived from a combination of data points including market sentiment, trading volume, recent price movements and Twitter activity.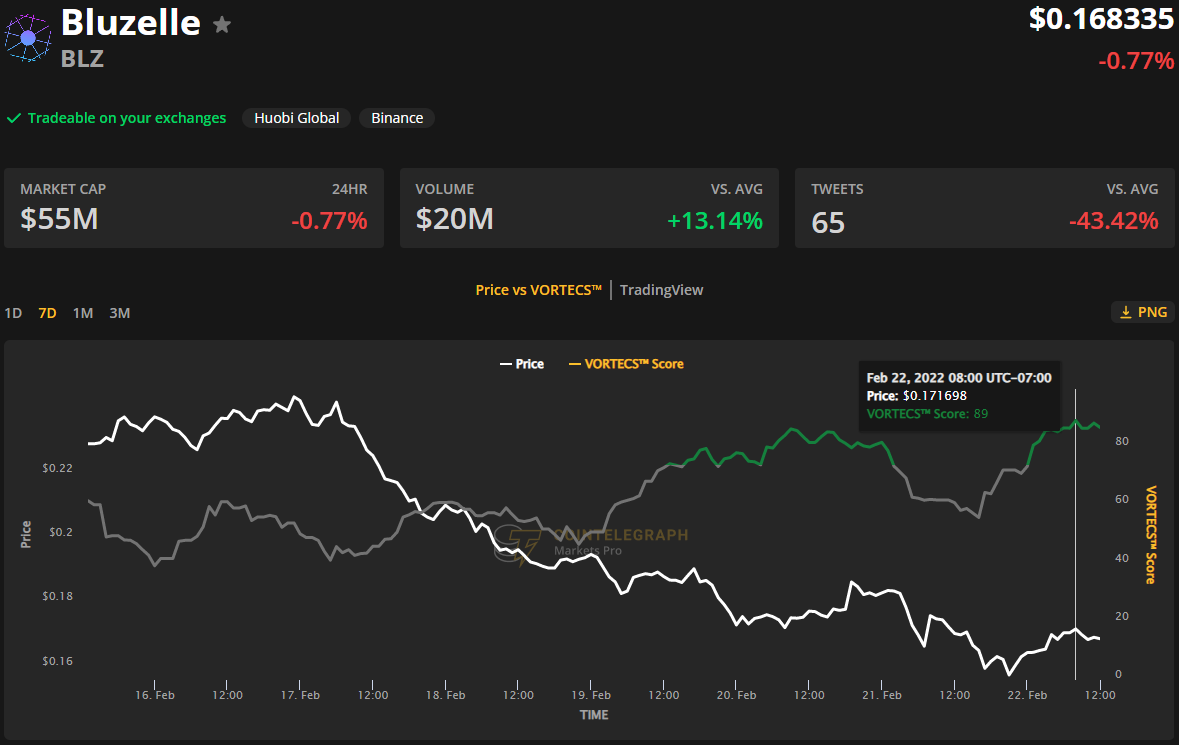 As seen in the chart above, the VORTECS™ Score for BLZ began has been on the rise since Feb. 19 and reached a high of 89 on Feb. 22 as its price hovered just below a major support and resistance zone at $0.17
Here's a look at three factors backing the building momentum for BLZ.
The launch of Denomination
One of the main developments helping drive interest in BLZ has been the launch of Denomination, the first play-2-earn (P2E) game on the Bluzelle network.
With the #Denomination launch upnext, we'll be releasing exciting updates from the Denomination Whitepaper every week to help you with:

Core Game Progression
Combat system
Breeding System
Tokenomics

Stay tuned!

— Bluzelle (@BluzelleHQ) January 17, 2022
Denomination is a real-time card battle game where gamers can fight against each other in player versus player (PvP) mode or against the environment in player versus environment (PvE) mode to receive tokenized rewards that can be used for governance or to purchase non-fungible tokens (NFTs)
The game was developed in collaboration with Starloop Studios, a professional game studio that has worked with some of the biggest game publishers in the world. It also includes a social system comprised of factions, a game shop, NFT marketplace, loot boxes and a treasury.
Collaboration with Cosmos
Another development helping build momentum for BLZ is the project's ongoing collaboration with Cosmos to help build out GameFi on the Cosmos Network.
With our continued development with @cosmos, we will also discover new ways to build out game finance in the Cosmos ecosystem

We'll explore methods to work with other chains as we go through production.

Stay tuned, good things are on the way!

— Bluzelle (@BluzelleHQ) February 15, 2022
Cosmos has been one of the hottest networks over the past couple of months despite the overall weakness in the cryptocurrency market thanks to its rapidly expanding ecosystem of interconnected projects and newly launched protocols that have rewarded early adopters with airdrops.
The GameFi capabilities of Bluzelle could help the Cosmos ecosystem make its mark on the blockchain gaming sector.
Developers behind Bluzelle have also expressed interest in integrating with other networks that could benefit from the addition of GameFi capabilities.
Related: Bluzelle launches mainnet decentralized storage for NFT content
The popularity of blockchain gaming
A third factor making the case for BLZ is the overall popularity of blockchain-based gaming and the P2E model.
Gaming has long been one of the most popular and widespread segments of the traditional economy and the success of Axie Infinity shows that blockchain gaming could vastly outperform traditional gaming. 
Soon the same endless hours you spent playing video games growing up will be spent on blockchain games.

Here are the top 5 #GameFi projects under 50M market cap@DeRaceNFT @BluzelleHQ @splinterlands @RealChainGames @raini_coin pic.twitter.com/qXqDtuKXFC

— BSC News (@news_of_bsc) February 1, 2022
A focus on helping to build out GameFi on multiple networks and the ability to process 10,000 transactions per second are helping to establish the bullish case for BLZ moving forward.
The views and opinions expressed here are solely those of the author and do not necessarily reflect the views of Cointelegraph.com. Every investment and trading move involves risk, you should conduct your own research when making a decision.